...Just Italians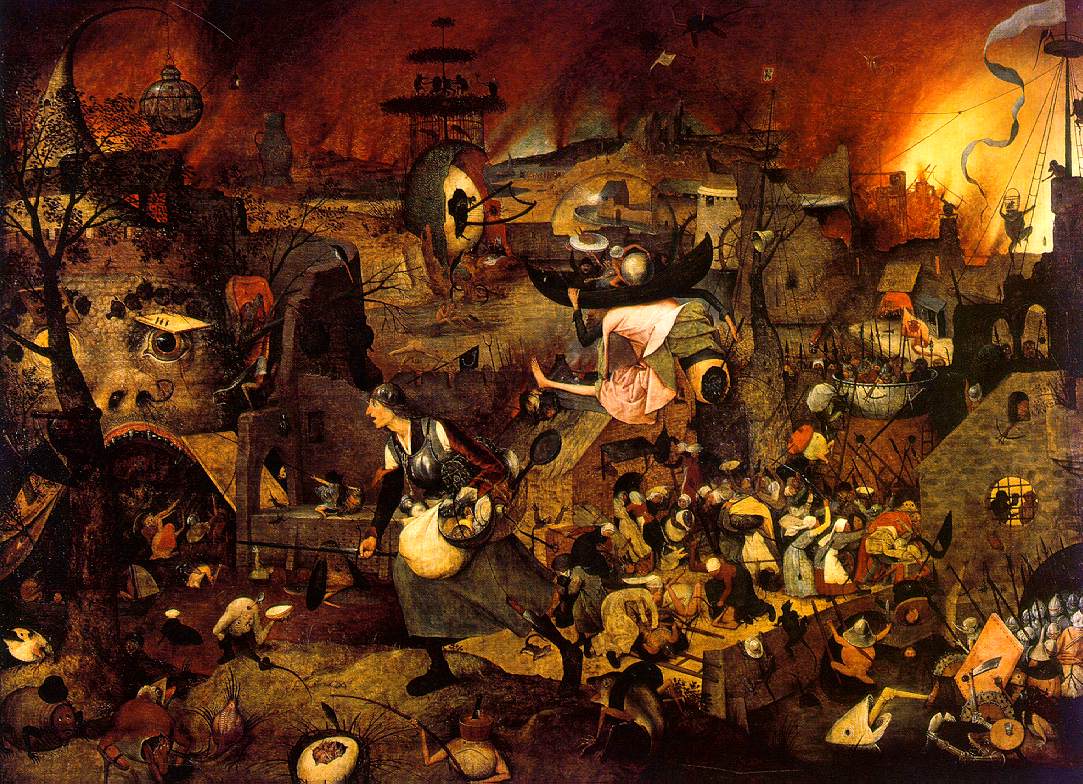 Okay, like a nation scorned. This is Bruegel, b/t/w.

In the middle of our life's journey, it sometimes becomes necessary to damn those who destroy a host country's hopes to hell. So take a trip with me, D. Alighieri, and our boy Virg-who's-nice-with-the-words, through the Italian National Team locker room.

The Opportunists/Outcasts: Massimo Oddo, Simone Barone, Andrea Barzagli, Cristian Zaccardo. Residing on the shores of the Acheron, a/k/a the substitutes bench, these are people who did nothing in life for good or evil, and are doomed to eternally pursue a banner and be pursued by wasps and hornets while maggots and other insects drink their blood and tears.

First Circle (Limbo): Fabio Cannavaro, Gianluca Zambrotta, Gianluigi Buffon, Luca Toni. Virtuous pagans call Limbo home; not necessarily sinful, but guilty by association. Anyway, they're in good company: Homer, Horace, Ovid, and Lucan can tell them bedtime stories each night. Buffon's a Renaissance man anyway.

Second Circle: Francesco Totti. For the lustful. Punishment includes being blown about by a violent storm without hope of rest, fine for a midfielder who flits about the field in various modes of concentration.

Third Circle: Filippo Inzaghi. Guarded by Cerberus, the Third Circle of Hell is for gluttons of any stripe, especially those who generally score gluts of terrible, ill-deserved goals.

Fourth Circle: Alessandro Nesta. Those of a miserly nature reside here, regardless of whether this quality respresents care with money or an unwillingness to allow opposing forwards opportunities to score.

Fifth Circle: Gennaro Gattuso, Marco Materazzi. The wrathful (which describes the former) are doomed to fight each other here on the surface, while the slothful (the latter) lie gurgling beneath the water.

Sixth Circle: Simone Perrotta. For heretics. Simone, your heretical claim is that you deserve national team selection.

Seventh Circle: Daniele De Rossi. Clearly, this circle houses the violent. Have fun elbowing the Minotaur in the face, buddy. It'll be the Inner 7th Circle for you: Violence against God, Nature, and Art get you afterlife in a flaming desert with fiery flakes raining from the sky.

Eighth Circle: Vincenzo Iaquinta, Fabio Grosso. Those guilty of deliberate, knowing evil, a/k/a/ the fraudulent reside here. Falsifiers that you two are, you shall be afflicted with various diseases, perhaps one that keeps you rigidly upright forever.

Ninth Circle: Mauro German Camoranesi. The ninth circle is for traitors, like those born of Argentine parentage, but who choose instead to play for Italy. And of course for those who choose to wear their hair like a samurai.